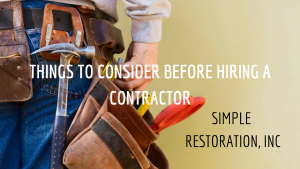 Things to Consider Before You Hire a Contractor in Ontario, CA
Hiring a contractor is a pretty big deal. A lot of trust goes into paying someone to build or remodel one of your assets. You are trusting them to build a sturdy and safe infrastructure, trusting them it will be everything you dreamed of once its done, trusting them to get it done in an timely manner, and trusting them to be legit contractors.
Hiring a Contractor in Ontario, CA
Here's a few things to consider before hiring a contractor to remodel or restore your building.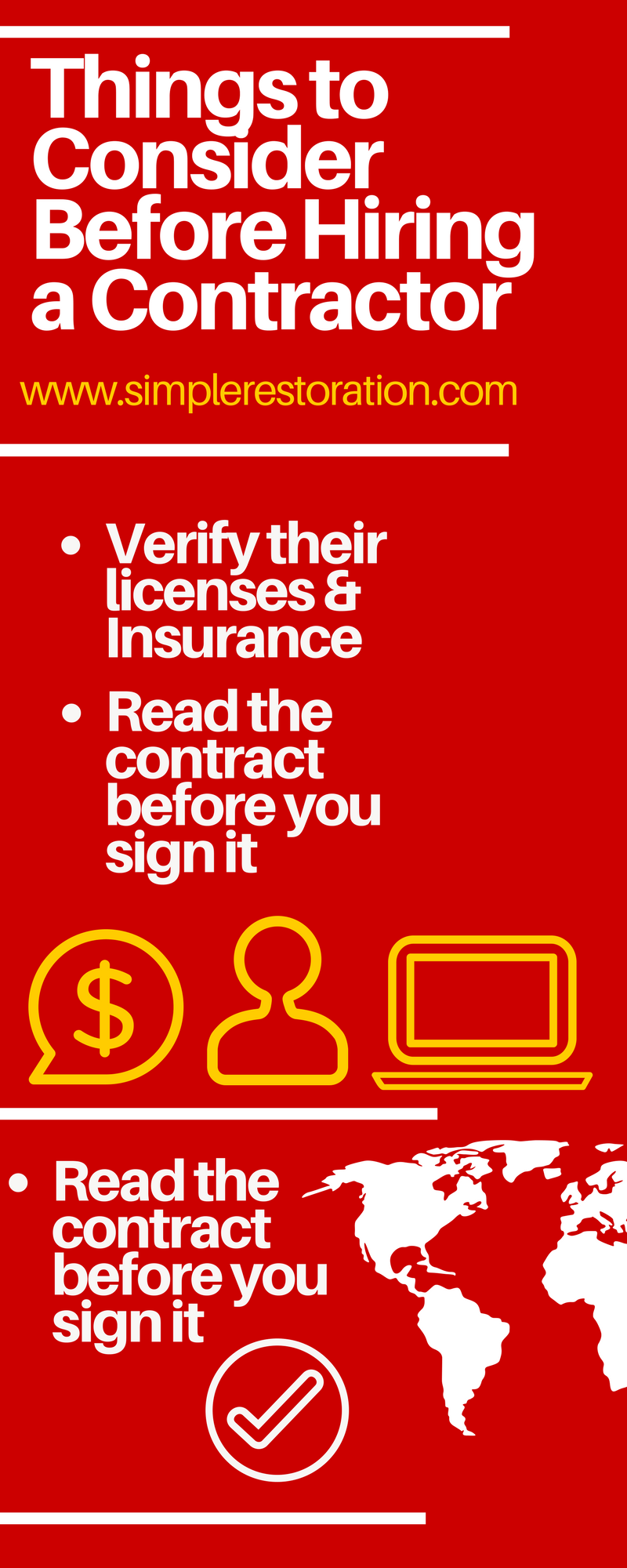 When doing your research on the best contractors near you, make sure to verify all of their licenses and credentials. You wouldn't trust someone without a driver's license to drive you around town, why would you trust someone without a license to rebuild your house. It's also important to verify their insurance. These two validations are crucial and should be one of the first things you do.  At Simple Restoration, a restoration company in Ontario, CA, we hold Water Restoration Technician (IICRC), Applied Structural Drying (IICRC) and Lead Certified Firm through EPA. Fire & Smoke Restoration (IICRC), Odor Control (IICRC).Applied Microbial Remediation Technician (IICRC).
Another important thing to do is to actually read the contract before you sign it. A lot of the time, people skim through "Terms and Agreements" and just sign it. It can be easy for us to assume they all say the same thing, but that's not true. Make sure to read the contract thoroughly and understand what you are agreeing to. Look out for any extra charges and fees.
Check all of their reviews and social media accounts. Nowadays, people are very vocal on social media. You can find out a lot about what you're getting yourself into just by reading their Yelp reviews. Be sure to check out our Twitter, Facebook, Linkedin, Yelp, and Google +.
It's important to hire a contractor you really trust and feel that is right for the job. After all, you will be seeing them often and they will be building a next chapter of your life. Simple Restoration values our costumers and with 30 years of experience, we only believe in delivering the best job. We provide

restoration services

to all of Southern California, including: Orange County, LA County, Riverside County, and San Bernardino County.